Olive Hill Greenhouses is a family owned and run business with a goal to spread a bit more joy in the world by growing quality plants that may be appreciated.
Our success has been built through the support of family and good friends who invested in the dream, by our ability to attract a loyal, diligent workforce who continually executes the details of our vision, by our suppliers attention to consistent quality, and of course by our customers who paved the path of success one plant at a time. To us, it is not about having a huge nursery, but rather being happy by making others happy, by providing a service, by growing similes, by helping the industry grow, by helping provide the local community jobs, and spreading goodwill through plants.
The joy and rewards of a family run business are having employees, customers, and suppliers that are an extended family.
Tony Godfrey
Owner, Olive Hill Greenhouses, Inc.
Growing up in Iowa, Tony cultivated his interest in plants while tending a large garden with his mother. Moving to California at age 13, offered greater diversity of education and experiences including working at a retail garden center in High School. Enrolled at Cal Poly Pomona in 1964. Tony was attracted to warm tropical greenhouses of Bob Weidner's Buena Park Greenhouses. The greenhouses were well run, well kept, and all the plants were perfectly manicured. Tony's dream was to own 1 acre of greenhouse by age 50. Little did he know his dream would be exceeded much sooner. After 9 years of working for others, Tony happened to meet Joe and Carmen Di Stefan of Fallbrook, who were willing to rent Tony a couple of acres. After a short partnership, Tony and Sue – newly wed in September – became sole proprietors of Olive Hill Greenhouses in December 1973.
Tony loves his plants. While raising his daughters, he expressed to them seek to make a job out of your hobby, so you always enjoy your work and are willing to work hard to succeed. He exemplifies this principle each day; always seeking ways to improve how we do business, how to grow the industry, and how to build the public's appreciation and expand the market for good quality plants. If plants are the meter for Tony's happiness, then millions of plants grown by Olive Hill has made Tony a really happy guy – no wonder he certainly cannot stop smiling.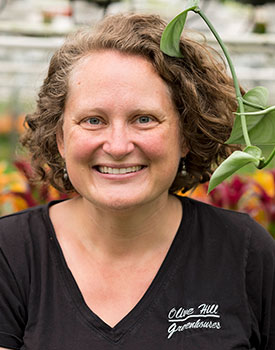 Denise Godfrey
Sales & Second Generation
Born and raised at the greenhouse, Denise loved following in her father's footsteps and began her career at the greenhouse at a young age offering to help her dad unload the truck when he was delivering plants for a vacationing driver. Looking for a field of interest to make a career out of a hobby took Denise to a Physics degree at Whittier College after which she came to her senses and realized the plant business was her true interest. She joined the family business officially in 2000.
To share her love of plants with children, Denise started a 4-H Floriculture program in Fallbrook in 2005. Denise greatly enjoys her floriculture adventures – taking daughters Emma and Lily along with other 4-H Families to discover the great plants being grown in greenhouses and nurseries in North San Diego County. These adventures always remind her how wonderful plants are and how awesome the growing community is as seen by the smiles on our 4-H faces.